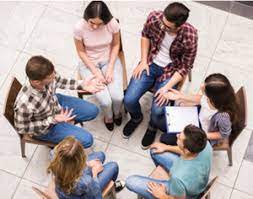 Atașamentul anxios, anxietatea socială și depresia – cum se leagă între ele și unde putem interveni 
Înainte de a vedea care este legătura între ei, să începem prin a defini termenii – stil de atașament, respectiv atașament anxios, anxietate socială și depresie.
Stilul de atașament, ca și pattern general de interacțiune socială și reglare emoțională, se formează în copilăria mică, în relație cu persoana semnificativă, care îngrijește copilul, în funcție de temperamentul copilului și responsivitatea acestei persoane la nevoile lui. Copilul învață în cadrul relației cu persoana semnificativă, în copilăria timpurie, că este iubit, acceptat și își menține această stabilitate emoțională și dacă există momente în care nu i se răspunde prompt la solicitări , sau, dimpotrivă, învaâă că nu este suficient de iubit, de valoros, că trebuie să câstige mereu atenția și dragostea celuilalt, că modul în care i se răspunde la nevoi este fluctuant și poate să-l facă să sufere, chiar să se simtă abandonat.
Primul stil de atașament se numește securizant și se consideră ca aproximativ 60% din populație are acest stil . Cele din a doua categorie se numesc nesecurizante, de tip anxios, descris mai sus sau de tip evitativ dacă strategia pe care o alege copilul pentru a evita suferința este a nu se atașa/ implica emoțional în relație.
Stabilitatea stilului de atașament de-a lungul vieții este de 70% , o persoana are în general un amestec din cele 3 stiluri, dar unul predomină pe termen lung.
Ce este anxietatea socială ? Una dintre cele mai frecvente probleme de anxietate este frica că ne vom face de râs in public, în situații sociale sau de performanță. Aceasta poate duce la dificultăți în a cunoaște persoane noi, a ne adresa unor persoane cu autoritate, a merge la petreceri, a mânca/bea în public, precum și la dificultăți de a performa – de exemplu a lua cuvântul în ședință, a ține o prezentare, etc. Intensitatea stărilor de anxietate asociate acestor situații poate fi atât de mare încât persoana să evite sistematic astfel de situații, cu riscul deteriorării funcționării sociale și /sau profesionale.
Despre depresie în acest articol este relevant să subliniem că se caracterizează printr-o triadă de credințe negative – despre mine, despre ceilalți si despre viitor. Depresia este cea mai frecventă tulburare asociată celor de anxietate și interferează cu rezolvarea problemelor de anxietate dacă nu este și ea abordată în terapie.
Un studiul realizat în 2001 de un grup de psihologi din New York a arătat că dintr-un grup de 108 persoane care erau diagnosticate cu anxietate socială cea mai mare parte aveau stil de atașament anxios, restul atașament securizant.
Realizând o comparație în acest grup între cei cu stil de atașament anxios și ceilalți au observat că cei din prima categorie aveau un grad mai mare de anxietate, comportamente de evitare mai frecvente, o rețea socială mai redusă, simptome de depresie și satisfacție de viață mai redusă.
Marea majoritatea a celor cu anxietate socială și atașament anxios, spre deosebire de ceilalți , erau singuri sau divorțați, raportând în general un nivel redus de satisfacție în relațiile romantice.
Cercetătorii au explicat acest aspect prin strategiile diferite pe care oamenii le adoptă în legatură cu stilul de atașament anxios , sugerate chiar de inițiatorul teoriilor atașamentului, J Bowlby (1973) : "în ochii lor lumea este un loc impredictibil și fără confort în care pot fie să lupte fie să se retragă"
Cei care aleg sa lupte dezvoltă o strategie de compensare – trebuie să merit dragostea și atenția – și au predominant anxietate de performanță, tendințe spre perfecționism, și pot funcționa relativ bine, social, romantic, profesional, cu costuri emoționale destul de ridicate însă.
Cei ce aleg retragerea sociala sunt cei mai afectați, evitarea situațiilor care ii fac anxioși este pe termen scurt un mod de protejare, dar costurile pe termen lung sunt mari – accentuarea anxietății, singuratate, depresie.
Unde putem interveni ?
În primul rând în programe de parenting, pentru a învăța părinții cât este de important este și cum să dezvolte atașamentul securizant.
În al doilea rând – în educația publicului larg , pentru a recunoaște din timp stilul de atașament anxios, tulburările de anxietate legate de situații sociale, strategiile de evitare și a interveni inainte de a se asocia cu deteriorarea funcționării sociale , profesionale și depresie.
În al treilea rând – în promovarea autocunoașterii și optimizării relațiilor de cuplu prin adaptarea interacțiunilor sociale și romantice la stilurile de atașament ale celor doi.
Și, nu în ultimul rând, în cadrul psihoterapiei anxietății sociale, pentru că atunci când este asociată cu atașament anxios progresul este mai lent și importanța relației terapeutice este mult mai mare.
Eng, W., Heimberg, R. G., Hart, T. A., Schneier, F. R., & Liebowitz, M. R. (2001). Attachment in individuals with social anxiety disorder: the relationship among adult attachment styles, social anxiety, and depression. Emotion, 1(4), 365.

Categories: None