Mindfulness este este un concept umbrela, care se refera la a fi ancorat in prezent , atent si constient, a observa/ descrie realitatea, evenimentele, fara a emite judecati de valoare, a reactiona de la situatie la situatie, evitand evaluarile stereotipe si raspunsurile automatizate.
Pentru persoanele care adopta aceasta atitudine fata de propriile senzatii si experiente, studiile arata ca exista o deschidere si o constientizare superioara a experientelor intrapsihice, care coreleaza pozitiv cu dezvoltarea inteligentei emotionale si cresterea emotiilor pozitive .
Atitudinea de tip mindful este firesc abordata si in ce priveste lumea exterioara si aceasta atitudine scade stresul si creste nivelul de satisfactie in relatii. In acest context este usor de inteles de ce autori consacrati precum Kabat-Zinn au inclus tehnici de tip mindfulness in programele de educatie parentala. Acest autor a lansat o carte foarte bine primita de public, devenita o lectura de referinta , tradusa si publicata in romaneste cu titlul "Mindfulness pentru parinti".
In aceasta carte el defineste arta de a fi un parinte mindful (constient) ca fiind abilitatea de a pastra constant in minte ceea ce este important, de a putea, de-a lungul activitatilor si interactiunilor zilnice cu copiii nostri, sa dam din cand in cand doi pasi in spate, mai ales in situatiile dificile, si sa ne intrebam " Ce este cu adevarat important aici ?".
Care sunt avantajele in a fi un parinte constient (mindful)?
Numeroase studii derulate in ultimii 10-15 ani arata ca utilizarea de tehnici de tip mindfulness in cresterea copiilor se asociaza cu efecte pozitive, atat pentru parinti cat si pentru copii.
Pentru parinti s-au observat scaderea stresului/ efortului emotional, mai putine simptome de tristete/anxietate, precum si o reglare emotionala, inclusiv pentru furie, superioara. De asemenea, s-au evidentiat imbunatatirea comunicarii, cresterea increderii in abilitatile proprii de crestere/educare a copiilor, precum si stabilirea de scopuri mai clare si mai realiste in acest sens.
Pentru copii/ adolescentii implicati in studii ce implementeaza tehnici de tip mindfulness in familie s-au observat cresteri ale abilitatilor de comunicare, ale inteligentei emotionale, a satisfactiei de viata, precum si mai putine probleme de comportament , de tip anxietate/depresie sau abuz de substanta .
In plus s-au observat imbunatatiri semnificative in ce priveste relationarea parinte-copil, un climat afectiv mai favorabil, concomitent cu o disciplina mai consecventa, sustinuta prin rationament inductiv si nu prin pedeapsa.
Cum pot fi un parinte constient (mindful )?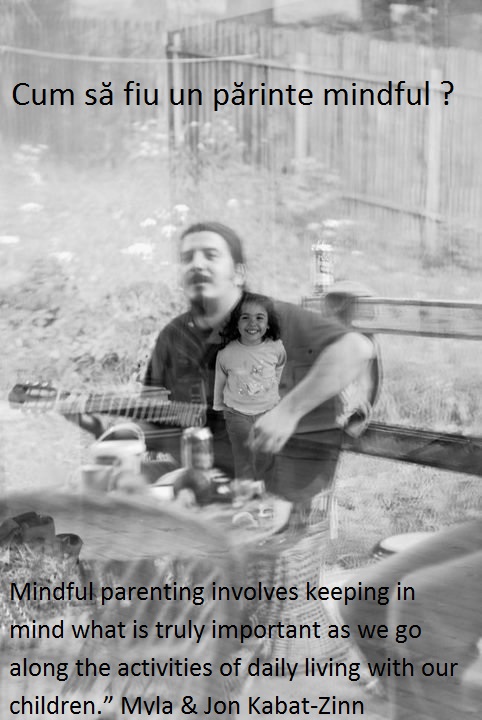 • Pornind de la literatura de specialitate si de la rezultatele studiilor realizate pentru a testa interventiile de tip mindfulness in cresterea copiilor, un grup de psihologi din San Francisco (Larissa G. Duncan, J. Douglas Coatsworth, Mark T. Greenberg) au propus si testat un model de mindful parenting cu 5 dimensiuni de baza.
Programul educa 5 abilitati fundamentale astfel incat parintii sa constientizeze si sa accepte nevoile copiilor , dar si pe ale lor, urmarind armonizarea acestora, astfel incat nivelul de bunastare sa fie unul ridicat pentru toata familia, obiectivele educationale sa fie realiste, realizabile si relatia sa ramana una armonioasa, pozitiva.
Aceste dimensiuni sunt :
- ascultare activa, constienta, care merge dincolo de ceea ce spune copilul, integrand limbajul sau non-verbal si intelegand coloratura emotionala, nevoile, perspectiva proprie a copilului, a ceea ce sta in spatele cuvintelor lui.
Printr-o astfel de ascultare, impreuna cu atitudinea de interes si dorinta de a intelege, copilul poate fi incurajat sa comunice deschis, sa fie sincer si increzator in parintele sau.
- acceptare non-evaluativa pentru sine si pentru copil – adica acceptarea faptului ca fiecare om poate avea abilitati mai mult sau mai putin dezvoltate, succese si esecuri, vise dar si limite, inclusiv relatia parinte – copil poate fi una cu urcusuri si coborasuri, in care atat parintele cat si copilul pot avea dificultati.
Acceptarea non- evaluativa pentru sine si pentru copil nu inseamna sa nu existe exigente, standarde, insa acestea trebuie sa fie realiste, ajustate la varsta si abilitatile copilului, cat mai putin influentate de judecati subiective derivate din experientele de viata problematice ale parintelui.
- constientizarea emotiilor proprii si pe ale copilului - considerata abilitate centrala si in inteligenta emotionala, permite dezangajarea de reactii si comportamente ce apar ca raspuns automat la emotiile puternice / neplacute. Prin recunoasterea si acceptarea propriilor emotii, dar si pe ale copilului creste deschiderea spre dialog, spre gasirea de solutii . Pentru copil mai ales este extrem de important sa-i fie recunoscute si acceptate emotiile, mai ales atunci cand nu ii sunt indeplinite dorintele (ex "inteleg ca esti trist ca nu putem manca acum desert, si mie mi-ar fi placut, dar asa este regula familiei noastre –  desertul dupa masa.)
Constientizara propriilor emotii permite detasarea de ele – emotiile sunt doar emotii, luarea in considerare a imaginii de ansamblu, a relatiei, a calitatii interactiunii, astfel incat parintele sa-si poata "alege" reactia potrivita . Spre exemplu, daca constientizam dincolo de  faptul ca ne-a mintit, ca ii e frica copilului sa comunice deschis, ca furia noastra  la minciuna este doar un raspuns al ego-ului nostru ranit , putem alege in loc de un raspuns stereotip ( ex "te pedepsesc" )  unul mai adecvat, precum a discuta cu calm si a cauta solutii adecvate pentru viitor.
- reglare emotionala - exercitarea unui control adecvat asupra manifestarii emotiilor disfunctionale , precum furia sau frica intensa. Nu inseamna ca un parinte mindful nu are emotii negative, ca nu are momente de iritare, de furie , insa el regleaza reactia asociata lor sau, cum spuneam la inceput, face doi pasi in spate si  pune lucrurile in perspectiva, discernand ce este important de ceea ce este contextual, abia apoi "alege" o reactie.
Reglarea emotionala este esentiala in mentinerea unei relatii armonioase, dar este si un proces prin care  copilul invata cum sa realizeze la randul sau, reglarea emotiilor puternice, in special a afectului negativ. Are loc o invatare implicita, neintentionala, care va influenta pe termen lung bunastarea psihica si capacitatea de relationare a copilului.
-suport emotional (compasiune) pentru sine si pentru copil - aceasta fiind definita ca o tendinta spre afectivitate binevoitoare, care sa aline suferinta , opusa perfectionismului disfunctional sau tendintei spre (auto)invinovatire. Nu inseamna mila, nici compatimire. Ci mai degraba intelegere, empatie, suport.
In cazul parintilor ce dau dovada de compasiune in momentele dificile, de suferinta,copiii au o perceptie mai ridicata a suportului si acceptarii de catre parintii. Ei tind sa treaca mai usor peste eventuale esecuri, sunt mai intelegatori la randul lor cu ei insisi si motivati in general de dorinta de succes, nu de frica de esec, ceea ce scade riscul pentru depresie si anxietate si creste sansele de succes in viata.
Kabat-Zinn, M. (2009). Everyday blessings: The inner work of mindful parenting.
Duncan, L. G., Coatsworth, J. D., & Greenberg, M. T. (2009). A model of mindful parenting: Implications for parent–child relationships and prevention research. Clinical child and family psychology review, 12(3),
 preluat si pe https://iacbc.wordpress.com/2016/07/28/ce-inseamna-sa-fii-un-parinte-mindful/
Categories: None